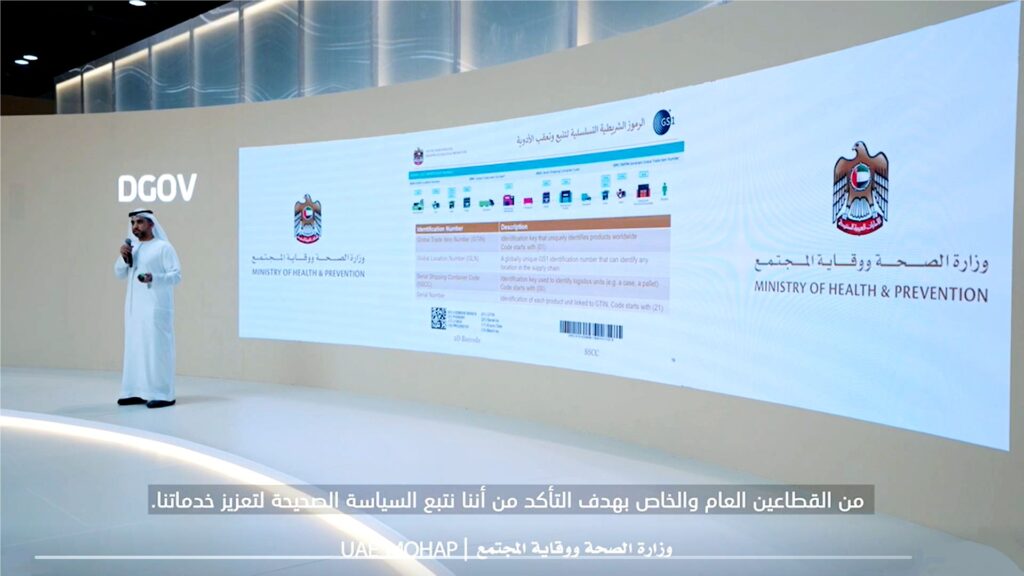 GS1 was highlighted as a key enabler of digital health by the Ministry of Health and Prevention UAE this year during GITEX, the annual enterprise technology and global digital transformation event taking place in Dubai. The event took place from October 10th to 14th, where MoHAP showcased the latest smart health services and sustainable solutions designed based on artificial intelligence techniques to promote the UAE's digital health system, enhance its efficiency, performance, and reliability and pave the way for more sophisticated services.
MoHAP's initiatives aim to ensure the health and safety of the citizens of UAE through the right services and solutions, where GS1 UAE becomes a pivotal player, providing end-to-end traceability with its standards for Tatmeen. Tatmeen is a highly advanced track and trace platform by the Ministry of Health and Prevention in the UAE for pharmaceuticals and medical products that enables the identification and tracking of drugs sold in the UAE and ensures public health safety and the security of healthcare services at every step. The drug tracking system will allow the identification and tracking of drugs sold in the UAE from a central command center using the unique GS1 standard serialized barcodes. Inspectors will be able to scan barcodes in stores, pharmacies, and hospitals, identify counterfeit and illegal drugs and service providers, and the public will be able to validate their medications using customized mobility solutions. The system will also enable supply chain stakeholders to track the movement of medicines.
A variety of high-quality and cutting-edge services that simulate the future of healthcare, alongside technological innovators from the most prominent technology companies in the world were also presented.