This white paper published by Deloitte explains many of the challenges seen today in the race to have a secure, accurate and timely supply chain to get COVID-19 vaccines to recipients – and the role GS1 standards can play in this context.
As rollouts of the COVID-19 vaccines become a reality, stakeholders from across the globe will need to collaborate to ensure these vaccines are available and accepted.
It is critical that stakeholders work together to identify all possible logistics requirements and bottlenecks across the end-to-end supply chain – an ongoing collaboration between healthcare providers, government leaders, regulators, public health authorities, vaccine recipients and industries is needed.
Global standards, ensure supply chain security, increase patient safety, and provide trust in the vaccines, medicines, and medical products distributed worldwide. Public trust is paramount and those who achieve a strong degree of public trust will have successfully conveyed their humanity and transparency, while meeting uncertainty head-on in the global COVID-19 supply chain.
Everyone deserves to be safe.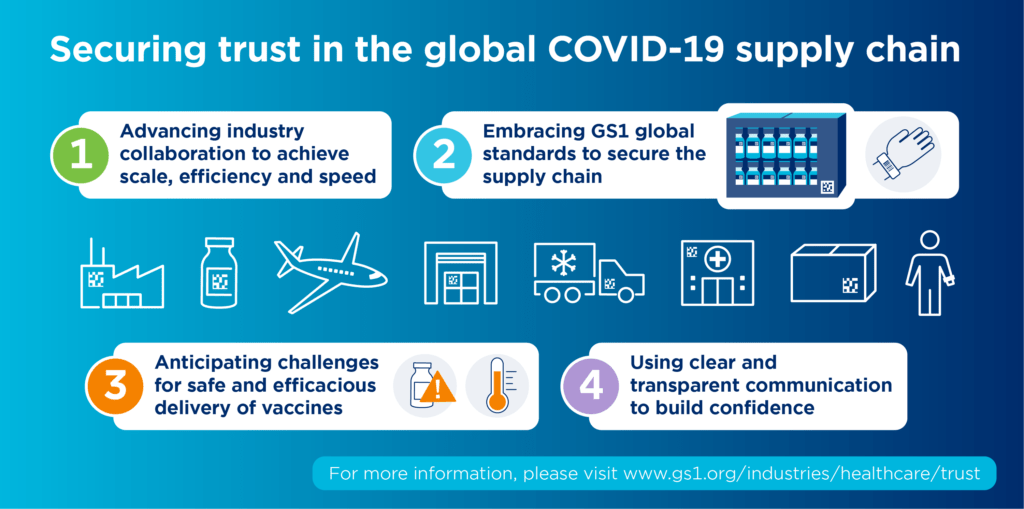 Copyrights to GS1 Global